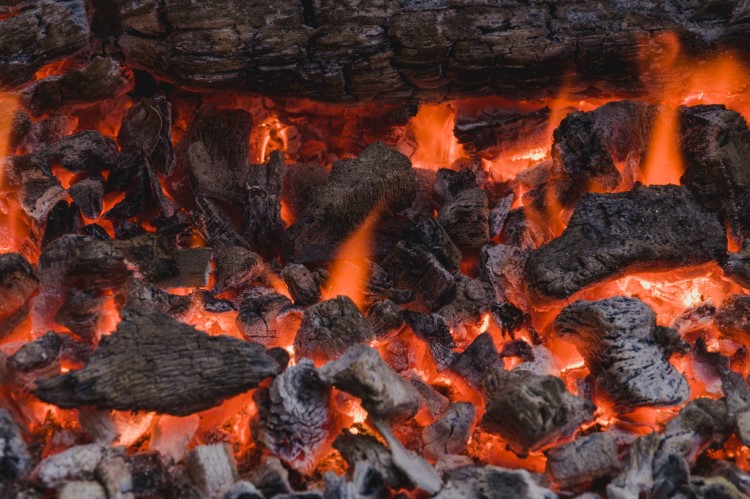 I once watched a documentary about a group of people who had signed up to walk across a bed of coals. You know, the hot, fiery kind that are left after you set fire to a pile of logs – that are perfect for roasting potatoes in tinfoil or a lamb on a spit, but not at all inviting to walk across. Why they were doing this I forget, but it had to be in California some place. Why California? Well, apart from the fact that there was a fire-walking guru involved and everyone was, as far as I recollect, speaking English, where else could it, realistically, have been? The group (no-doubt) consisted predominantly of marketing assistants, soccer moms and at least one dentist seeking deeper meaning or minimally wishing to up their conversational anecdotal game on an extended weekend in the forested foothills of Sonoma County. I have a hazy memory of the guru himself, who was definitely a white guy and (I would like to think) had shoulder-length hair and wore white robes and leather sandals (but more likely cut-off chinos and less-than-white sneakers) but I do distinctly remember the instructions that he gave to his students in their weekend quest to achieve mind over matter: to "think of walking barefoot through an unmown lawn, heavy and wet with pre-dawn dew", while reciting a mantra of "cool grass" to themselves as they walked, literally, through fire.
Our courageous narrator-participant is an earnest, middlingly charismatic fellow, typical of such pre-reality tv small-D documentaries, professionally mildly sceptical (for dramatic purposes) and possibly somewhat personally concerned (as the barer of the actual feet that would be put in an actual fire at the behest of his producer for our viewing pleasure). We cut from him receiving instruction in-group from the guru to a first-person direct-to-the-camera soliloquy where he voices his doubts about the efficacy of the methodology and wisdom of his career choice. Then, inevitably, we are introduced to the anti-guru: the expert from a renown (but conveniently located) center of higher learning – urban, knowledgeable, dispassionate and, above all else, rational. The scientist brandishes and demonstrates the tools of quantification: temperature probes, human flesh analogs and anatomical foot simulators and rumbles ominously about time-temperature-transformation charts, delta-tees and third degree burns.
The final afternoon of the weekend is taken up with building a twenty-foot long stack of crisply split hardwood logs and in a last meal (or was it a supper?) at a long table facing what is now a large and extremely intense and intimidating fire. It is hot. As the flames die down and the sun begins to set, the group sits in a circle around the guru while they remove their shoes and roll up their pant legs. The fire pit is still radiating a considerable heat – the air shimmers above it and the orange glow it throws off lights the group of rather nervous faces as the final moment draws near. If you have walked bare foot on the beach on a hot, sunny day, you have an idea of what is in store for these would-be firewalkers. Indeed, at this point, faced with the prospect of voluntarily walking into a real fire, a large proportion of the participants get, as it were, cold feet and chicken out. A few brave souls remain, among whom, of course, is our narrator, who is being paid to do this and consequently has no choice. First it is the turn of guru. He walks up to the start of the pit, pauses, presumably in meditation, before walking serenely across the entire length of the fire and stands, seemingly unscathed, at the far end. Then, one by one they line up, and with loud and frequent shouts of "cool grass", walk extremely briskly or run – like a cat on a hot tin roof – some of the way across the coals before jumping off and plunging their feet into a bucket of cold water. Does our hero make it all the way across? Possibly, I forget. But I do seem to remember the look on his face – triumph mixed with chagrin? – as he, sitting in a lawn chair, and now understandably less interested in narrating for the camera, examines the burns on the soles of his feet.
Why am I telling you this? Well, apart from the fact that the dentist was right: it is a good story, it is, depending on your point of view, a story as much about mind over matter as it is science1. I am certain, from a scientific point of view, that the guru's feet were just as burnt as our narrator's and that later, after everyone has gone home, he will be applying the burn cream to his soles, but I am equally certain that at that moment he chose and was able not to feel it.
And with that we segue, completely seamlessly, into the actual subject of this post, which is the new steam wand. I could go into the details of what is new, and talk about the "kit" that it replaces that was sold by the (Italian) manufacturer that, for the life of me, I cannot assemble in any way that does not result in hot water and steam escaping energetically from every place it isn't supposed to, or the quality or rather lack thereof, of the chrome finish which resulted in a least a third failing inspection. Suffice it to say that, with the exception of the wand itself and the two-hole tip, which come from two different manufacturers, everything other than the seals and the spring is made by us. But rather than talk about what is new I would prefer to discuss what is not. Some people have asked why we don't have one of those silicone or plastic handle thingies on the steam wand so you don't burn yourself. And my answer is that they are aesthetically displeasing and that I have used machines without them for decades without ever burning myself (badly). Yes, the metal wand gets really hot when you run steam through it. Yes, it will burn your fingers if you hold on to it. So just don't do that – give it a quick nudge back into place once your done with it and you'll be fine. I'm with the guru on this one: mind over matter.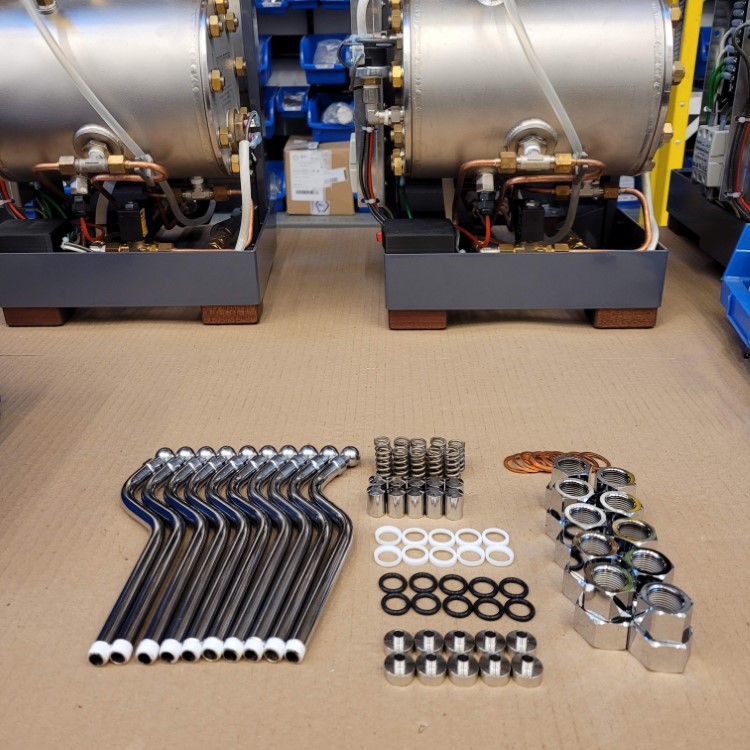 1 – and cultural appropriation of (the trappings of) eastern spiritualism by privileged westerners for often philosophically dubious reasons and/or, as in this case, personal gain.